How Much are Your Samples Worth?
Ensuring sample integrity keeps you laboratory running smoothly and protects your research. In this blog we will discuss the value of your samples and how Froilabo freezers preserves your sample quality.
Could you put a price on your research?
Sample storage is often an over-looked area in a laboratory – and this isn't surprising, with the demand for research increasing, a busy laboratory doesn't have time to think about the type of freezer they are using. However, sample storage plays a vital role in the laboratory, and storage conditions can have a significant impact on your sample, which in turn affects data results, reproducibility and reliability.
Storing samples at -80oC helps maintain sample integrity, allowing the laboratory to analyze the sample at a time and date which is convenient for them whilst preventing sample degradation. Insufficient storage conditions can affect sample specificity, integrity, reactivity, stability, viability and more. So, what does sample integrity mean to you?
How much is your freezer worth?
Let's say your -80oC freezer can hold up to 48,000 samples, and if each sample was worth £10: the total value is already £480,000. Unfortunately, it's not that simple – your samples are worth significantly more than monetary value and could be imperative to the completion of your research. For example, if it's a clinical sample from a trial testing the effects of a novel drug which is 365 days post dose, and this sample loses its integrity, what then? This sample is no longer viable for analysis, and this is just one sample out of the potential 48,000 you have in your freezer. This surpasses monetary loss, and is a significant loss in time, money and valuable data.
How much do you stand to lose if your storage solution does not match the value of your samples?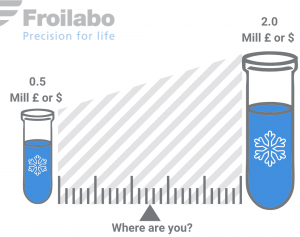 How Froilabo Freezers ensure sample integrity:
In order to ensure accurate and reliable results, it's vital that your ULT freezer maintains sample integrity and with laboratories constantly changing, you want a freezer that you can rely on. Naturally, the frequent and daily use of a freezer will impact the temperature, therefore it is vital to utilize a freezer that can restore the desired temperature quickly and efficiently to maintain sample integrity.
Froilabo freezers were made with the customer in mind, and are optimized for daily use, with minimal temperature fluctuations and fast temperature recovery even with frequent door opening. With over 100 years of know-how, the Evolution freezer has been designed to maintain sample integrity. We care about your valuable research and want to ensure that your samples remain secure.
Power cuts and your samples:
But what happens in a worst-case scenario situation? What happens to the integrity of your samples during an unprecedented event like a power cut? Just recently a news story was released where a cleaner turned off the power to the freezer, resulting in 20 years of ground-breaking research being destroyed which accumulated to a $1 million loss. The results of a power failure can be catastrophic, and this is why Froilabo developed additional safety measures to ensure sample integrity even during a power outage.
The cyro-accumulator or CO2 / LN2 options are independent systems which result in a delayed temperature rise, providing the user with up to 18hrs of sample security.  This ensures that there is sufficient time to notice a problem and relocate their invaluable samples. This means, if there is a power outage, or the freezer is accidentally turned off – your samples will remain safe. You don't have to plan for a worst-case scenario, Froilabo already have you covered.
Here at Froilabo your samples are our priority, as we understand that this isn't just a freezer, it's an assurance on sample integrity and scientific success.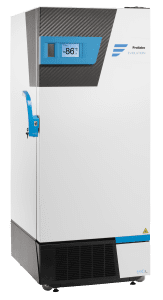 Key points:
Sample storage plays a vital role in laboratories, with many samples being stored at -80oC.
Maintaining sample integrity is a priority in order to generate viable and reproducible data.
Froilabo freezers are optimized for daily use – with minimal temperature fluctuations even with frequent door opening.
The cyro-accumulator option provides extra sample security in the event of a power outage – ensuring samples remain viable.
Froilabo freezers ensure that a busy laboratory can focus on their research, without having to worry about the safety of their samples.
Froilabo Evolution freezer:
Click here to learn more about the Froilabo evolution freezer and our other range of products.
Further Reading:
What Is An Ultra-Low Temperature Freezer?
4 Top Tips for an Energy Efficient Laboratory Freezer
Laboratory Freezer Maintenance For Low Temperature and ULT Freezers
Laboratory Freezers From Froilabo – A Guide To Selecting The Best Laboratory Freezer