The Dragon Temperature Forcing System FAQs
At Froilabo we value our customers and prioritise the clarity of information we provide. We have therefore created an FAQs page specifically for our Temperature Forcing System, The Dragon, to ensure that nothing stands in your way of getting the optimal use out of our product. Below you will find a series of frequently asked questions. If we have not answered your question, please get in touch and we will be happy to help.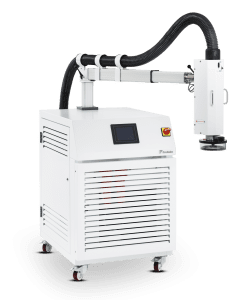 The Dragon is Froilabo's first in class temperature forcing system providing fast and accurate results. This versatile and stable thermal air conditioning unit is perfect for heating electronic components and printed circuit boards, performing climatic simulations, electronic characterisation, temperature cycling, and targeted freezing.
What is the R508 refrigerant charge?
For the R508B the refrigerant charge is 330 g, and for the ISCEON99, it is 840 g.
Do we have to carry out leak check on the refrigerants of the devices?
Yes, leaks should be carried out due to the refrigeration unit.
More Questions? Get in Touch (H2)
If you have any more questions regarding the Dragon, please contact our sales team, who will be delighted to assist.