Temperature Controlled Incubator Applications
What is a Temperature Controlled Incubator?
A Temperature Controlled Incubator is an essential piece of lab equipment. They provide a sterile, controlled environment for the growth of microorganisms and cell culture or tissue culture growth.
One condition that needs to be regulated and adjusted depending on the desired application is the temperature of the incubator.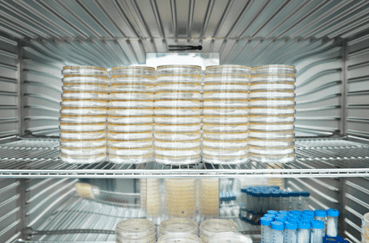 Applications of a Temperature Controlled Incubator
Food and Drink Testing
Food and drink must be thoroughly tested to ensure it is safe for consumption. Laboratory incubators allow samples to be stored in controlled environments to minimise the risk of contamination of food samples from external factors enabling the most accurate results possible.
Pharmaceuticals
A temperature controlled incubator is used to determine the thermostability of pharmaceuticals. This is important so that we can understand how stable a drug product will be at different temperatures and if it has an impact on the efficacy of the active ingredients.
Microbiology
Growing cells and other microorganisms is essential for research in a number of industries. A cell culture incubator must be a temperature controlled incubator that provides a regulated space for growing microbes under optimal conditions, especially in environments where temperature can be variable.
Temperature Controlled Incubator Range from Froilabo
The temperature controlled incubator range from Froilabo includes features to cover a range of applications.
Sample safety is a top priority for Froilabo. Each model benefits from high and low temperature alarms to keep your samples secure and alert you to any issues as soon as possible, with easily visible indicators. The easy door closing feature allows the user to remove samples without worrying about the door being open for longer than necessary. An inner glass safety door not only improves insulation of the sample chamber but also allows user to view the samples without fulling exposing the samples to thermal shock.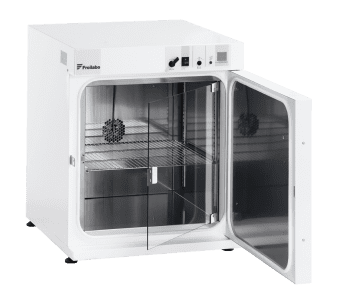 The Bio Static Performance range covers a temperature range of 5 to 65° C, suitable for several industries. The natural convection allows long term incubation, protecting samples that may be sensitive to desiccation.
The Bio Performance range has all the features of the Bio Static model however it boasts forced convection to offer high temperature precision and homogeneity throughout the incubator. Forced convection is recommended for full loads or situations where there will be frequent door opening and closing as the warm-up, stabilisation and recovery time are reduced compared to natural convection.
For full functionality, the Bio Expert range enables more demanding applications without compromising on any functionality. In addition to the features of the Bio Performance range, the Bio Expert range has an adjustable fan and a programmable controller with 8 settings to enable a temperature cycle with up to 4 temperatures. A thermal disinfection cycle at 160 °C also enhances the bacteriological safety, keeping the incubator free from contamination between uses.
Based on the Bio Expert range is our Bio Refrigerated Expert range, allowing you to incubate samples at as low as 0 °C and up to 100 °C. The Bio Refrigerated Expert has no compromises on the Bio Expert, offering the same quality for more demanding applications.
Each of these models is available in 3 volumes: 60 L, 120 L and 240 L to suit the size of your lab and number of samples you will be incubating. The Bio Performance range is also available in large volumes of 414 L and 735 L.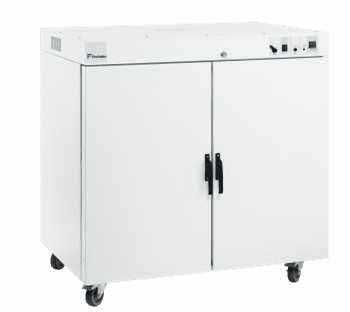 To find out more about our temperature controlled incubator range for cell cultures, microbiology and more contact our sales team today who will be happy to discuss the options with you.
Further Reading
What is a Laboratory Incubator?
3 Top Tips for the Care and Maintenance of your Laboratory Incubator
Keep in Touch
If you have enjoyed this blog and would like to hear all the latest product news and applications from Froilabo, be sure to sign up to our eNewsletter and follow us on social media using the links below.