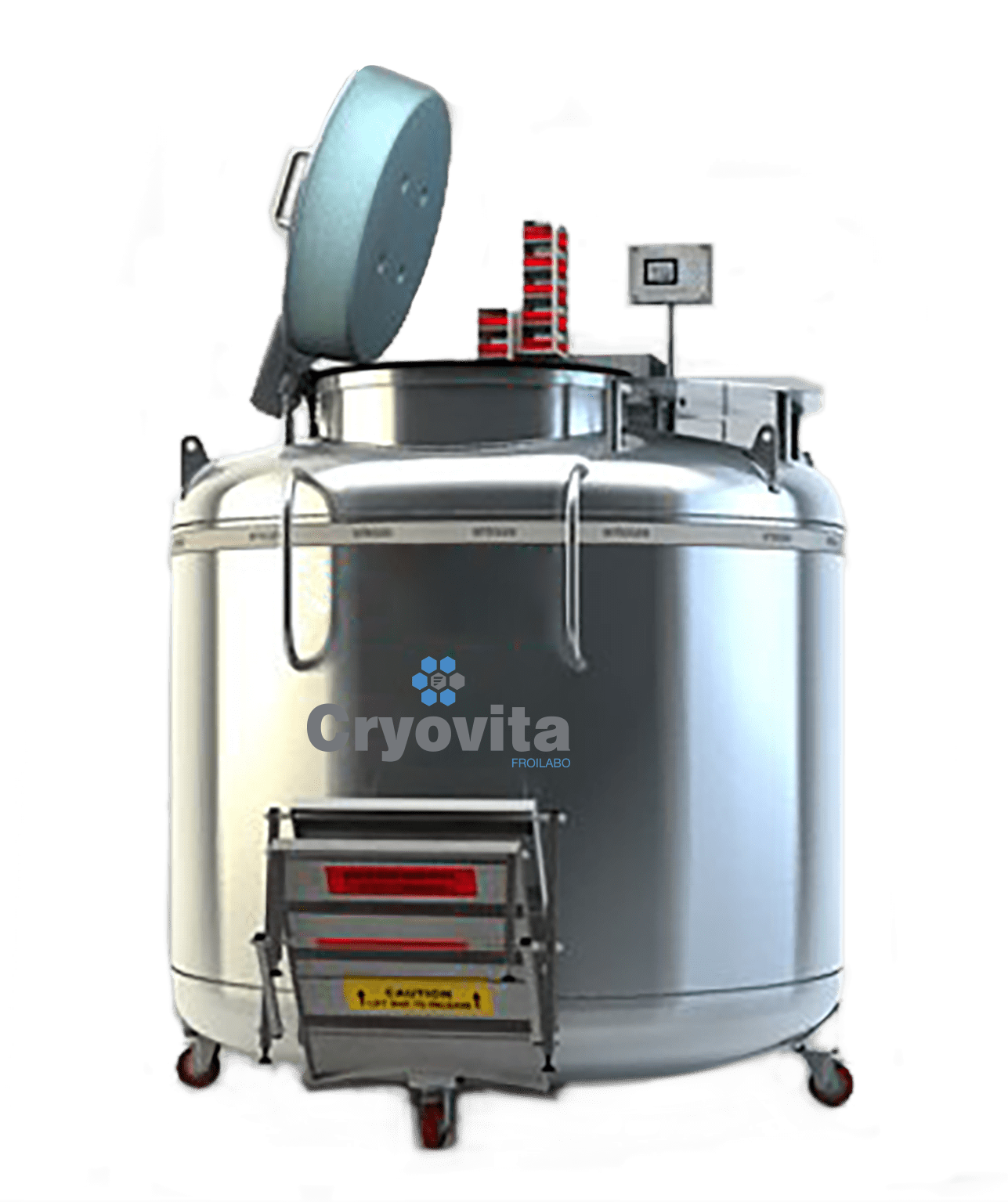 Polaris Series - Cryogenic Inventory Racking System
The stainless-steel Polaris inventory racking systems are designed for long-term sample storage applications.
Unlike traditional cryogenic storage that immerses samples in liquid nitrogen, or vapour storage systems where samples are housed above a liquid reservoir, Polaris is a truly dry storage system. A nitrogen jacket surrounds the sides and base of a central chamber creating a dry storage system and ensures temperature uniformity.
Available in five storage sizes, the largest can store up to 107,100 vials.
Dry working chamber – virtually no risk of cross-contamination or exploding vials
Lower sample storage temperature than conventional units
Full volume of chamber can be utilised for racking. No loss of storage space under the lower plate as seen in vapour phase vessels
Full logging of temperature/alarms
Built-in high-level safety and sample protection
Principles of Dry Storage
More uniform temperature profile from base to lid.
Liquid envelops the chamber including sides
Physical separation of samples from LN2
Lid can be left open for access for several hours
Dry storage offers -190 °C with all vessels
Polaris Sensors
Temperature Sensor – PT1000 Class A (measuring range -200 °C to +200 °C) (calibration point -196 °C)
Level Sensors (Cryogenics Proprietary Sensors responsive to LN2 vs gaseous phase) – Low Alarm/ High Alarm
Continuous Level Capacitance Probe (CryoGauge 242 – battery powered – 2 yrs. – standard AA cell. Accuracy +/- 5mm. Pressure test 40 bar
Gas Vent Sensor (QLA100GV probe – capacitance probe. Pressure tested to 10 bar)
Available port for 3rd party temp sensor (8mm ID)
| POLARIS MODELS (CV-P) | 8 | 13 | 23 | 50 | 94 |
| --- | --- | --- | --- | --- | --- |
| LN₂ Capacity – Litres | 30 | 55 | 86 | 168 | 314 |
| Overall Height – Inc Electronics (mm) | 1480 | 1341 | 1403 | 1893 | 1950 |
| Internal Usable Height (mm) | 765 | 790 | 790 | 900 | 900 |
| Outside Diameter (mm) | 540 | 761 | 931 | 1175 | 1548 |
| Internal Usable Diameter (mm) | 415 | 620 | 787 | 1029 | 1400 |
| Neck Diameter (mm) | 415 | 260 | 235 | 448 | 650 |
| Height to Neck Rim (mm) | 1215 | 1334 | 1395 | 1549 | 1617 |
| Shipping Weight – Empty (kg) | 94 | 223 | 377 | 516 | 855 |
| **Weight – Full (kg) | 159 | 280 | 446 | 625 | 1109 |
| Vial Capacity 2mL | 5200/7644* | 12350 | 23400 | 51000 | 94500 |
| Step | N/A | Option Single Hook on | Option Single Hook on | Double Folding | Double Folding |