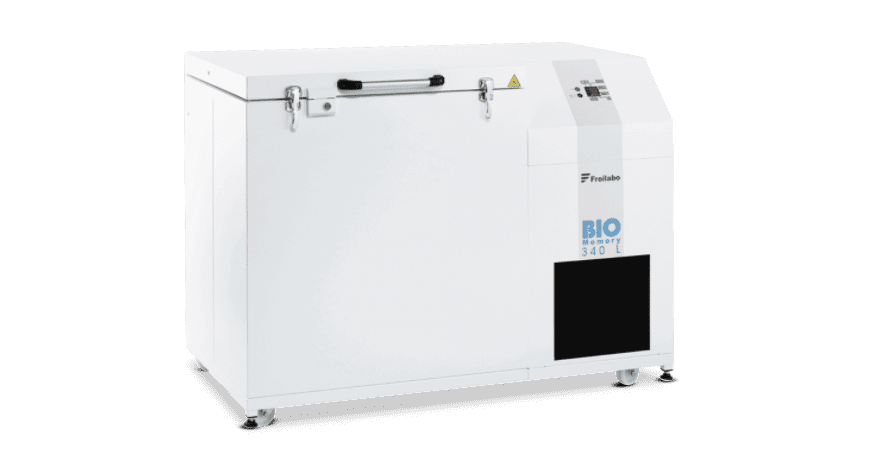 Bio Memory -86°C Freezer (Chest Style)
Original Design: The Bio Memory range was Froilabo's first ULT freezer range and has become a symbol of exemplary performance and reliability. The horizontal (chest style) freezer design offers high storage capacity and has excellent temperature homogeneity.
Maximum Sample Protection: BoSS (Board Substitution) system that powers compressors in the event of electronic fault.
The original Froilabo ULT
The Bio Memory range of chest freezers is available in 3 volumes, 340 L, 515 L and 690 L.
Economical storage
Since the freezers are opened from the top there is little opportunity for the cold air to sink out of the freezer, meaning they maintain temperature exceptionally well despite regular door openings.
Carefully designed
– Easy access to samples
– Key lock for additional security
– Inner tank stainless steel
Wide Range of optional interior equipment
– Full range of vertical storage elements.
After sales service the protection of your samples
The Froilabo After-Sales Service is made up of a team of technicians specializing in -86 ° C freezers to maintain your equipment and guarantee the protection of your samples.
Refrigerants compliant with the new F-Gas regulations
As global warming and ecology in general are at the heart of our concerns, the refrigerants used in all Froilabo freezers comply with the new F-Gas regulations (EU No. 517/2014).
Now introducing our Cryobox Cryotube Holders, which are suitable for use with Froilabo's ULT freezers and cryogenic storage systems.
| Reference | Description | External dimensions H x W x D (mm) | Natural gas version |
| --- | --- | --- | --- |
| BMH 340 | Chest freezer -86°C 340L | 1032 x 1380 x 920 | ✓ |
| BMH 515 | Chest freezer -86°C 515L | 1032 x 1740 x 920 | ✓ |
| BMH 690 | Chest freezer -86°C 690L | 1032 x 2100 x 920 | ✓ |
| Reference | Description |
| --- | --- |
| BM/CO2 | Liquid CO2 injection backup system |
| BM/OPT2 | Pt 100 ohms 4-20 mA x3 probe, (-100°C to +50 °C), terminal block output at the back |
| BM/OPT4 | Pt 100 ohms x3 probe, (-100°C to +50 °C), DIN output at the back |
| BM/OPT5 | Sensor with 3m cable length for field calibration outside the freezer |
| BM/OPT7 | Temperature recorder on battery 0°C to -100°C with circular diagram 1tr/7d (factory assembly) for BM |
| BM/OPT11 | Pressure relief valve with cable gland |
| BM/OPT13 | 4-20mA output |
| BM/OPT18 | Dry contact NO/C/NF, external box with magnet |
| BM/OPT19 | BoSS system, factory assembly, net price |
| BM/OPT20 | Support for padlock closure |
| BM/QIQO | Provision of a IQ/OQ file and realization of the on-site performance |