Laboratory Freezer Maintenance For Low Temperature and ULT Freezers
As such a vital piece of laboratory equipment, it is important to ensure that laboratory freezers are properly maintained to keep them functioning optimally.
At Froilabo, we want you to be able to get the best out of your freezer. For this reason we have put together a quick and simple guide with our top tips for laboratory freezer maintenance.
Guarantee safe sample storage by observing the following freezer maintenance guidance.
Efficient Sample Storage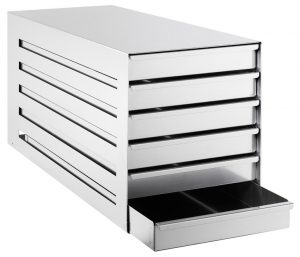 Consider the best ways to utilise the freezer:
Freezers work best when filled, prevent empty space
Use appropriate racking systems – drawer style racks rather than side access racks might be beneficial if frequent access is required
Minimise the time that the freezer door is open – you can help reduce this time by organising samples and using inventory management systems
Ensure The Best Positioning
Environmental conditions can affect freezer performance:
Position freezer away from heat sources – this includes windows, radiators and other heat emitting equipment like ovens and incubators
A low temperature and humidity control room is advantageous
Allow a minimum clearance of 15 cm around the freezer to give good are circulation and heat dissipation
Frequent Checks
It is good practice to do weekly checks on your freezer:
Remove frost build-up around the door seal
Ensure inner and outer doors are properly closed
Brush off frost from inner chamber doors regularly
Monitor temperature recovery times
Cleaning The Pressure Relief Valve
The valve helps the chamber to quickly return to ambient pressure after door opening:
Humidity can build up within a freezer due to frequent door openings, which can result in frost formation within the air intake tube where the pressure relief valve is located. This can make door openings more difficult
Remove the safety valve and the foam blocks. With a screwdriver inside the air intake tube, push the ice into freezer chamber, if possible a small spray of warm water can help remove the ice
Clean the pressure relief valve and foam blocks regularly (every 1 to 3 months)
Ensure valve and blocks are repositioned correctly – the thin block should be positioned valve side, and the thicker block should be positioned inner tank side
Cleaning the Air Filter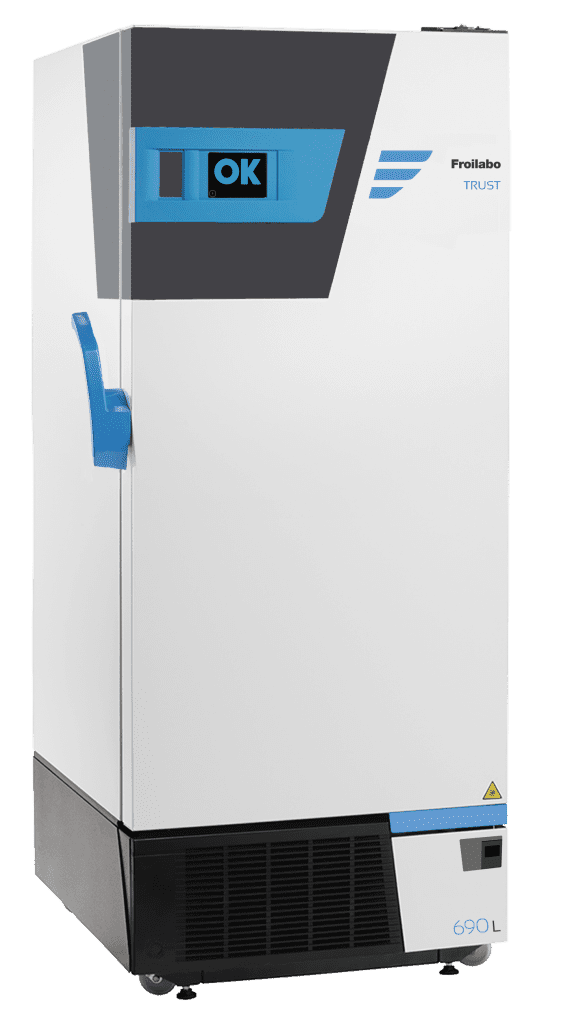 Keep optimal performance of the freezer and prolong the life of the compressors by cleaning the air filter:
To remove the air filter, open the small white door on the bottom right of the freezer next to the grill
Gently pull the grill upwards to free it from the retaining tabs
Remove dust with a gentle vacuum cleaner or by washing (without the use of cleaning detergent)
Allow filter to air dry (do not squeeze or twist filter)
In dusty environments, filters should be replaced rather than cleaned and should be checked regularly
Cleaning The Freezer
Keep your freezer free from contamination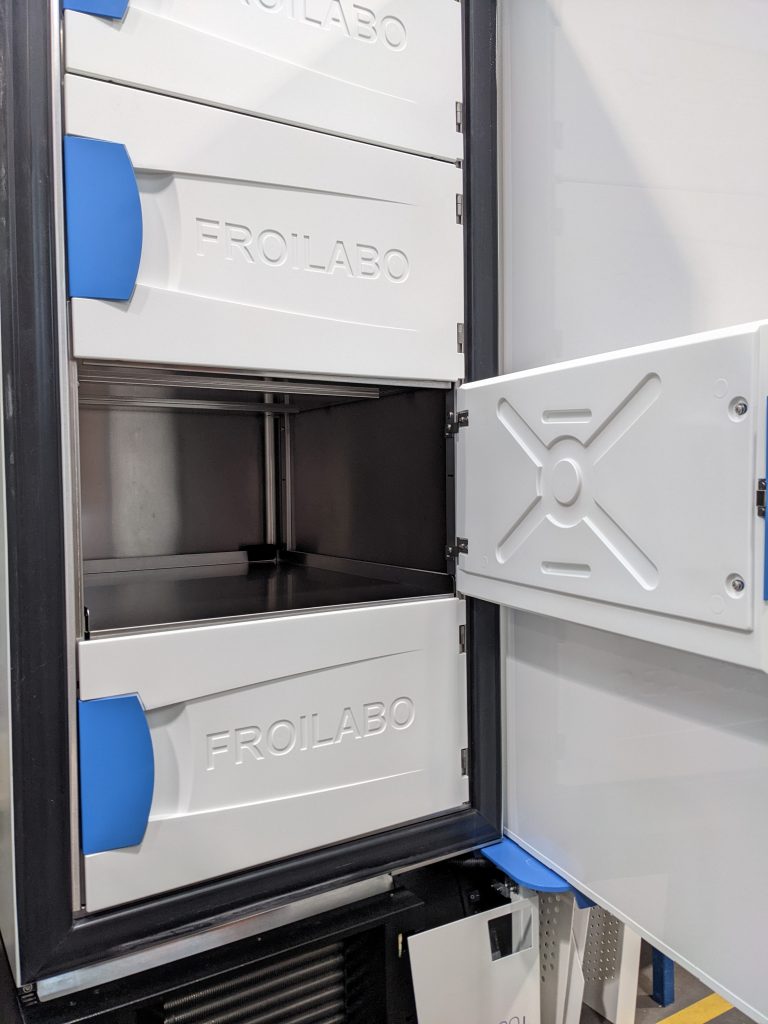 Freezer should be witched off prior to cleaning
Clean outer surfaces with a damp cloth
Inner surface of the cabinet may be cleaned with a soft damp cloth, do not wire sponges or other abrasive materials
Door seal is heated to prevent ice build-up, but in the event of frequent or prolonged door openings some frost build-up is possible. Clean the seal with compressed dry air or the plastic scraper provided by Froilabo
Compartment doors may be removed for ease of handling and can be cleaned with commercial cleaning products (which do not contain acid or chlorine), or a solution of up to 10% alcohol
Download Our Freezer Maintenance Poster
Download and print out our Laboratory Freezer Maintenance poster for display in the lab.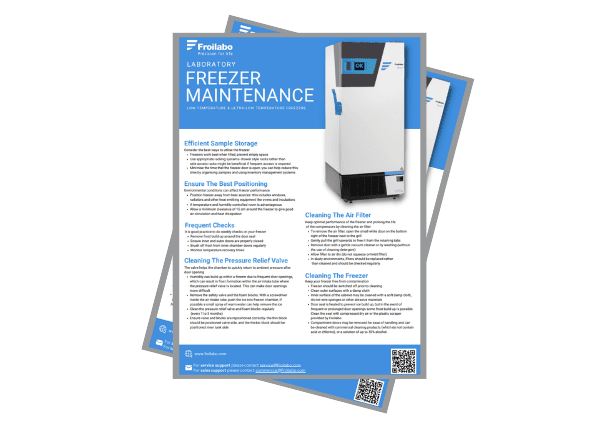 For further information or support, please get in touch, and a member of our team will be happy to help.