Freezer Racking Solutions for Laboratory Freezers
Introduction
Have you ever had trouble locating a sample that you need from your lab freezer? Are you struggling to maintain your freezer temperature because of frequent door openings? Freezer racking is the solution. Freezer racks will help you to optimise space, keep track of your samples so they are easily accessible, and hold the freezer temperature more effectively.
In this article we will discuss the benefits of putting a freezer racking system in place, the different types available, and the cryogenic freezer racking that Froilabo has to offer.
What is Freezer Racking?
Laboratory freezer racking is designed to organise and safely store biological samples or other frozen materials in chest and upright freezers, deep freezers, and ultra-low temperature freezers. They are designed to make the most efficient use of space and are a durable and long-lasting solution to freezer organisation.
Freezer racks are commonly made from materials that are able to withstand ultra low temperatures such as stainless steel, non-corrosive aluminium, clear acrylic, or polycarbonate. They are designed with separate compartments to enable the storage of individual boxes, conical tubes, vials and other storage devices found in laboratory applications. This enables the clear labelling and identification of samples, while also providing safety and security for long-term storage.
What are the Benefits of Freezer Racking?
There are numerous benefits of using freezer racking for sample storage in your laboratory freezer.
Make the most efficient use of freezer space – optimise space to store as much as possible within your freezer.
Organise and categorise freezer space – create different sections for different applications which can be clearly labelled, for easy identification and location of samples.
Allocate space – when multiple different people are using the same lab freezer, space can be easily allocated to each member respectively.
Reduce temperature rises during door openings – studies have shown that the use of racking can reduce temperature rises during door openings and increase the warm up times.
Hold the internal temperature – if the freezer is 100% racked it will hold the overall required temperature more precisely.
Freezer Racking Systems from Froilabo?

Ultra Low Temperature Freezers
Froilabo offers a range of different freezer racking devices for our Ultra Low Temperature and Low Temperature Freezers.
Our Evolution -86°C range, Trust -86°C range and Bio Memory -86°C Freezer all come complete with the following interior equipment:
Sliding and anti-tilting shelves (optional)
Complete range of aluminium compartmentalised side access racks
Complete range of stainless steel drawer storage units
Drawers suitable for storing microplates
Baskets suitable for bulk storage
Possibility of realisation of custom storage elements
You can find the full details of the internal equipment provided with each freezer on the respective product page on our website.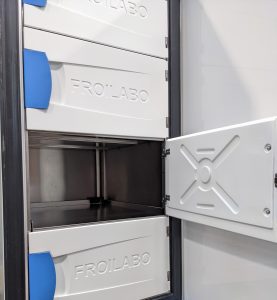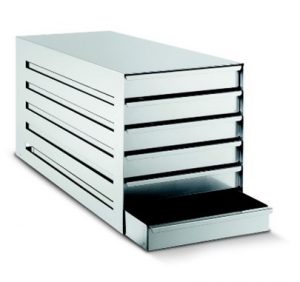 Cryogenic Storage Systems
Cryovita is the comprehensive range of cryogenic storage systems from Froilabo, created to provide efficient and reliable sample storage and safe liquid nitrogen handling and transport. View our full range of Cryogenic Storage Systems.
The Darwin Series Inventory Racking System
The aluminium Darwin Inventory Racking System is designed for high-capacity vial storage in the liquid phase and is primarily used within laboratories. The Darwin series contains two models: the 60L unit which can store up to 2000 vials and the 120L unit which can store up to 4000 vials. Each Darwin series vessel comes with four inventory racks as standard and features a lockable lid.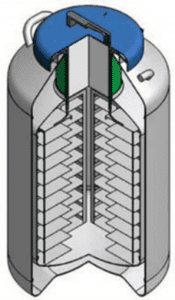 The Origin Series – Inventory Racking System
The stainless-steel Origin Inventory racking system is ideal for long-term sample storage applications where temperature stability and sample security are required. It may be operated in liquid or vapour phase and features highly efficient units with low LN2 consumption and extremely stable near-liquid temperatures at the top of the inventory chamber. Available in 5 models, with the largest holding up to 94,500 vials.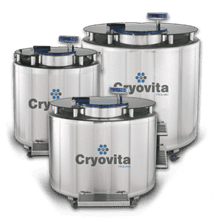 Cryobox – Cryotube Holders
We also produce Cryotube holders, which are suitable for use with Froilabo's ULT freezers and cryogenic storage systems. The cryoboxes are constructed from extra strong polycarbonate and can accommodate temperature ranges from -196 °C to +121 °C.
Get in Touch for More Information about Freezer Racking
If you have enjoyed learning about how to optimise your freezer storage with freezer racking and would like to find out more about how Froilabo can help, please contact us. We look forward to being of assistance.
Alternatively, to stay in the loop regarding future news, products and research from Froilabo, make sure to sign up to our eNewsletter and follow us on social media via the links below.