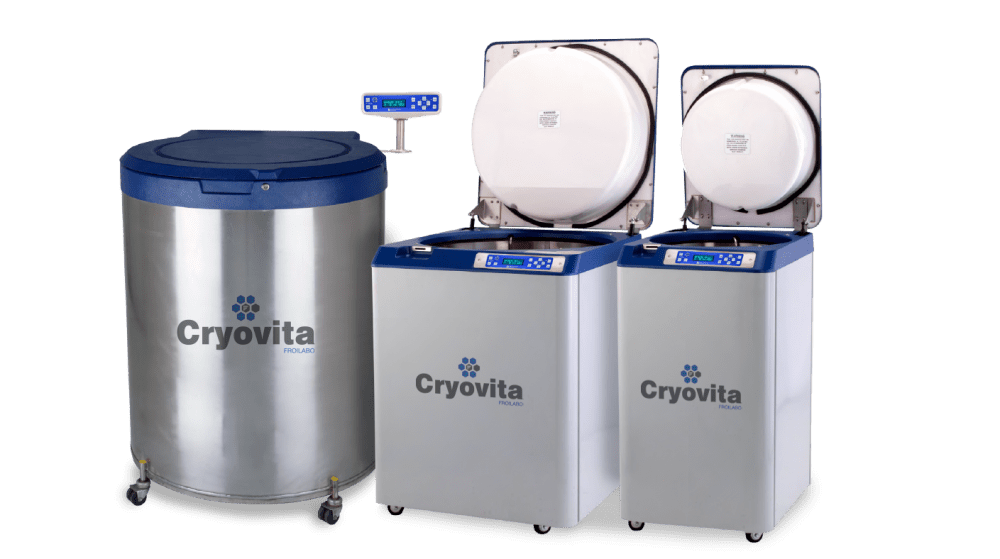 Voyager Series - Inventory Racking System
The stainless-steel Voyager inventory racking systems are designed for reliable and efficient long term storage.
Samples may be stored in a liquid or vapour phase when equipped with the appropriate inventory control. There are 4 available models, enabling the storage of up to 38,350 samples (Model 38K). The large, hinged lid allows easy access to all of the sample racking and enables easy sample insertion and retrieval.
Reliable and efficient with easy access to samples
Features controllers that monitor and manage liquid level, temperature and have an array of alarms
Intuitive touch controls
Suitable with inventory control systems
| VOYAGER MODELS (CV-V) | 3K | 10K | 24K | 38K |
| --- | --- | --- | --- | --- |
| Static Holding Time – Days | 19 | 33 | 52 | 73 |
| Working Time – Days | 12 | 20 | 32 | 46 |
| Evaporation Rate – Litres/days 2.5, 5.0, 7.0, 8.0 | 2.5 | 5.0 | 7.0 | 8.0 |
| LN₂ Capacity – Litres | 48 | 165 | 365 | 590 |
| Weight – Empty (kg) | 19.1 | 111 | 184 | 256 |
| Weight – Full (kg) | 56.7 | 243 | 474 | 733 |
| Neck Diameter (mm) | 356 | 533 | 787 | 991 |
| Overall Height (mm) | 754 | 111.8 | 111.8 | 1245 |
| Overall Dimensions (mm) | 391 | 587×775 | 864×965 | 1067 |
| Usable Height – Internal (mm) | 488 | 737 | 737 | 737 |
| Internal Diameter (mm) | 356 | 533 | 787 | 991 |
| Plastic Vials, 2 ml | 3024 | 10400 | 24050 | 38350 |
| Number of 100/81 Cell Racks | N/A | 7 | 17 | 28 |
| Number of Shelves | N/A | 44000 | 59400 | 11400 |
| Box Shape/Size (mm)/Vials per box | Triangle/171×175/56 | Square/127×127/25 | Square/127×127/25 | Square/76×76/25 |
| 0.50cc straws, 10 per goblet, 2-13mm goblet per cane, two tier turn-table inventory control system | N/A | 44000 | 59400 | 11400 |
| Roller Base | 366742 | N/A | N/A | N/A |
| CS100 Controller | N/A | 372540 | 372541 | N/A |
| CS200 Controller | N/A | 367901 | 367914 | 368086 |