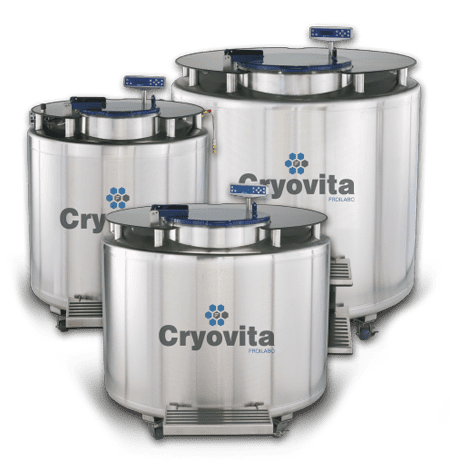 Origin Series - Cryogenic Inventory Racking System
The stainless-steel Origin inventory racking systems are ideal for long-term sample storage applications where temperature stability and sample security are required.
They may be operated in liquid or vapour phase and feature highly efficient units with low LN2 consumption and extremely stable near-liquid temperatures at the top of the inventory chamber.
Available in 5 models, with the largest holding up to 94,500 vials.
Laboratory archival biological cryostorage tank
State-of-the-art engineered cryogenic freezer
Highly efficient with low LN2 consumption
Extremely stable near-liquid temperature at the top of the inventory control system
Benchmark in biobanking
FROILABO's Cryovita Origin Cryostorage Systems are designed for applications where extremely low temperature biological sample storage is required. They are also appropriate for industrial or other applications where liquid nitrogen temperature and high capacity are needed.
The Origin cryogenic freezer is designed for, but not limited to, the laboratory environment. Each model is supplied with locking casters to enable limited mobility for cleaning and positioning purposes.
Each standard model is equipped with a FROILABO Cryovita approved electronic liquid level controller that will monitor and control the supply of liquid nitrogen to the unit. Make sure to read the operating and safety instructions provided before using your Origin unit. The addition of liquid nitrogen supply and inventory control racks for systematic retrieval of stored product completes the total Origin Cryostorage System.
| ORIGIN MODELS (CV-0) | 28K | 38K | 40K | 80K | 94K |
| --- | --- | --- | --- | --- | --- |
| External Operating Height (mm) (Top of Step to Lid opening) | 1067 | 1118 | 1067 | 1067 | 1016 |
| Step Height (mm) | 275 | 287.5 | 275/407.5 | 275/425 | 275/550 |
| Usable Height – Internal (mm) | 762 | 762 | 762 | 762 | 897 |
| Outside Diameter (mm) | 864 | 1067 | 1143 | 1511 | 1511 |
| Internal Working Diameter (mm) | 750 | 965 | 1029 | 1397 | 1397 |
| Neck Opening (mm) | 330 | 457 | 457 | 622 | 622 |
| Total LN₂ Capacity (Liquid Storage) | 371 | 623 | 698 | 1269 | 1595 |
| Total LN₂ Capacity (Vapour Storage) | 36 | 73 | 80 | 137 | 300 |
| Weight – Empty (kg) | 295 | 422 | 417 | 703 | 771 |
| Maximum Gross Weight (kg) | 595 | 925 | 981 | 1729 | 2060 |
| Inventory Control System Specifications | | | | | |
| No. 100/81 Cell Racks | 14 | 26 | 30 | 58 | 60 |
| No. Shelves/Rack | 13 | 13 | 13 | 13 | 15 |
| No. 25 Cell Racks | 4 | 12 | 8 | 12 | 8 |
| No Shelves/Rack | 13 | 13 | 13 | 13 | 15 |
| Vial Capacity. 2ml | 19500 | 37700 | 41600 | 79300 | 93000 |
| Bag 25 ml (7 Level Rack) | 1624 | 2688 | 3108 | 5999 | 6856 |
| Bag 50ml (7 Level Rack) | 924 | 1582 | 1876 | 3381 | 3863 |
| Bag 250 ml (5 Level Rack) | 500 | 900 | 990 | 1920 | 2304 |
| Bag 500 ml (5 Level Rack) | 420 | 690 | 830 | 1610 | 1932 |