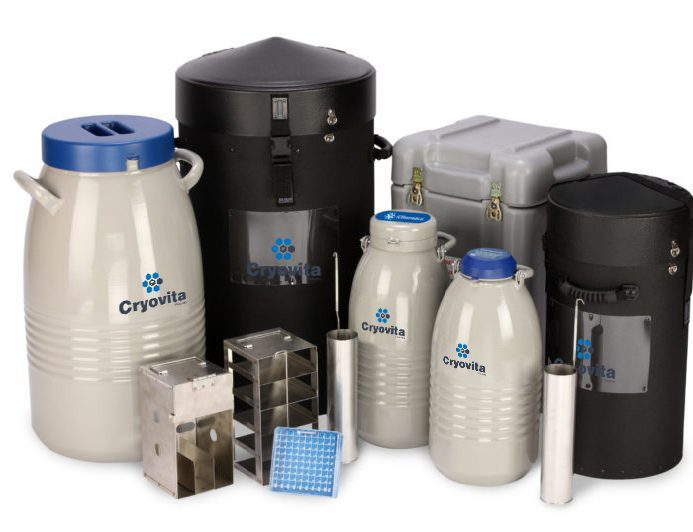 Vapour Shipping Vessels
The aluminium Vapour Shippers are designed for the safe transport of biological samples in a convenient and suitable container.
Complies with IATA regulations for open cryogenic receptacles. The samples are stored within the vapour phase and the lightweight aluminium construction makes the vessels portable and helps to keep transport costs low.
With 5 models available, the vessels can store vials. straws or blood bags.
For safe transport of biological samples
Compliant with the IATA regulations for open cryogenic containers
CR & CRX models feature an Advanced Concept Adsorbent which enables faster charging of the vessel
D & DX models use a hydrophobic adsorbent that enables efficient cleaning in the event the vessel becomes contaminated
| VAPOUR SHIPPER | CX100 | CXR100 | CXR500 | 4D | 4DX |
| --- | --- | --- | --- | --- | --- |
| LN₂ Capacity – Litres | 4.1 | 3.7 | 6.4 | 4.1 | 4.1 |
| Static Holding Time – Days | 18 | 16 | 11 | 27 | 24 |
| Evaporation Rate – Litres/Days | 0.2 | 0.23 | 0.64 | 0.17 | 0.17 |
| Necktube Diameter (mm) | 70 | 91 | 216 | 51 | 71 |
| Outside Diameter (mm) | 222 | 234 | 394 | 222 | 222 |
| Height (mm) | 470 | 493 | 683 | 470 | 470 |
| Weight – Empty (kg) | 5.31 | 5.31 | 13.61 | 5.31 | 5.31 |
| Weight – Full (kg) | 8.62 | 8.26 | 18.82 | 8.62 | 8.62 |
| No.of 1.2 ml &2.0 ml vials (5/cane) | 85 | 85 | 500 | 40 | 85 |
| No.of 1.2 ml &2.0 ml vials (6/cane) | 102 | 102 | 500 | 48 | 402 |
| Number of .25 cc Straws (28/cane) | 784 | 784 | 1736 | 448 | 784 |
| No. of .25 cc Straws, Bulk (2 Levels) in Goblets | 1640 | 1640 | 7160 | 952 | 1640 |
| Number of 1/2 Straws (10/cane) | 280 | 280 | 1240 | 160 | 280 |
| No. of .5 cc Straws, Bulk (2 levels) in Goblets | 800 | 800 | 3200 | 460 | 800 |
| Number of Canisters | 1 | 1 | N/A | 1 | 1 |