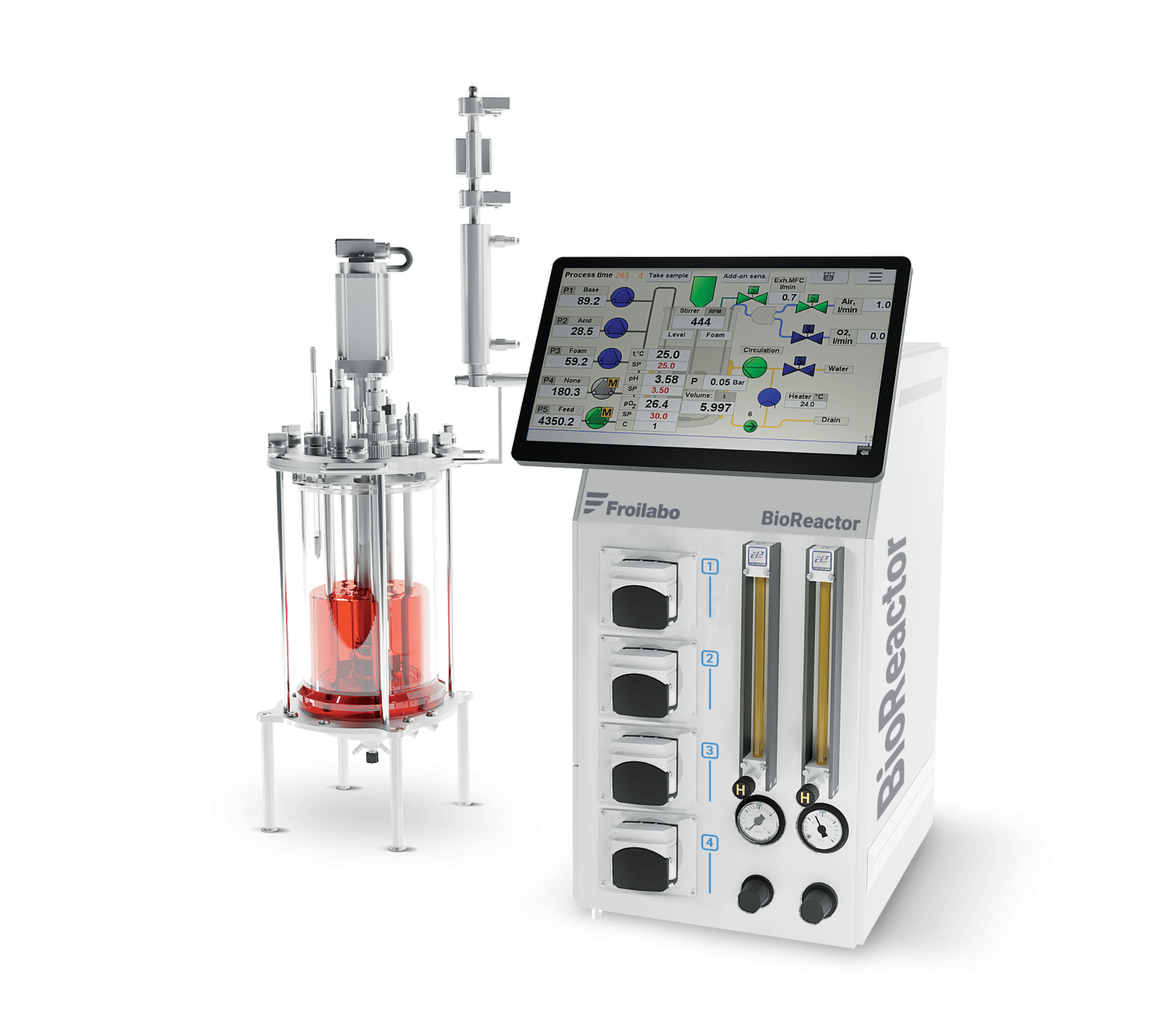 5 L Bioreactor for Cell Cultivations
Novel magnetically coupled drive: eliminates the risk of contamination within the vessel since there is no mechanical seal.
Mixing and aeration: tailored for cell cultivation (plant and mammalian cells).
Autoclavable sampling port: The sterilisable port facilitates operational activities.
Uniform lid construction: No welded components within the lid for easy maintenance and sterility.
Flexible working volume: 5 L bioreactor with working volume up to 4.5 L.
Our innovative fully automated and autoclavable laboratory bioreactor is designed for R&D and process development. It has a robust design, yet it is compact and ergonomic. The vessel is mounted between a jacketed base and a non-welded lid.
The uniform lid features all the necessary ports and sensors that might be required for cell cultivation processes.
There is a sterilisable sampling port conveniently located in the base of the vessel to facilitate operational activities during a process.
The magnetically coupled drive which can reach up to 1500 rpm ensures excellent sterility within the vessel.
The bioprocess controller ensures:
1) Temperature regulation by supplying a control signal either to the heating element or the electro-magnetic cooling water valve of the thermostat. Thermoregulation is carried out by circulation of thermostated water through the bioreactor's jacket, which is located in the bottom lid of the vessel;
2) pH control by supplying base or acid solutions to the bioreactor medium using the bioprocess controller's peristaltic pumps;
3) pO2 control by automatic adjustments of the stirrer's rotational speed. The actual pO2 value is monitored using a pO2 electrode;
4) Foam control by supplying an antifoam agent to the bioreactor's medium using the bioprocess controller's peristaltic pumps. The foam level is monitored using a conductivity sensor;
5) Feeding of a substrate by using the bioprocess controller's peristaltic pump and the respective feeding rate/volume is controlled by the feeding profile, which is set in the bioprocess
controller;
6) Level control by using the bioprocess controller's peristaltic pump. The medium level is monitored using a conductivity sensor;
7) Mixing by using a magnetic drive, the agitator is driven by a motor which is mounted on the top lid of the bioreactor.
Optional SCADA software is available to control fermentation processes and store the process data. Additional sensors, balances and devices can be integrated in SCADA. The software can operate on a single PC, network or remotely via Internet and can control one or several bioreactors.
Our SCADA enables the possibility to communicate with MATLAB based program via OPC server. The MATLAB program ensures fed-batch automatic control by on-line comparison of mathematical model with process off-line data.
The SCADA software is developed according to the requirements of 21 CFR Part 11. The implication is that the process can be evaluated, reviewed, approved and archived without a single sheet of paper and without the possibility to falsify process data and signatures. Our SCADA software may be adapted to the special requirements of our customers upon request.
Bioreactor 5.2 (cell cultures)
Vessel
Total Volume (L)
6.2
Working Volume (L)
2 – 4.5
Inside Diameter/Inside Height (mm)
150 / 350
Ports
Mixer drive; pH, DO, T, foam, liquid level sensors; tree needle port for acid base and anti-foam agent addition; chemo-stat tubes for level control and addition of bioreactor feed solutions; aseptic pierce-able membrane port; in-let gas
port (0.2 μm filter added); exhaust gas port (0.2 μm filter added); 2 spare ports/ The ports are 4×10 mm, 4 x 7.5 mm – 7×12 mm (PG 13.5 mm)
Sampling
Double walled base ensuring bioreactor thermostating. Autoclavable aseptic sampler
Aeration
Control
Rotameters (2), TMFC (option)
Gas Supply
Air/Carbon dioxide + Oxygen, N₂ (option) Air/Carbon dioxide in headspace
Flow Range, L/min
0.1 – 2
Sparger
Microsparger
Filters
D50 mm 0.2 µm PTFE
Exhaust gas condenser
Cooling from water – line or chiller
Mixing
Drive
Top magnetic coupling
Rotation Speed Range (rpm)
40 – 500
Mixer (Impellers)
2 pitched blade impellers
Control
Controller
Siemens Simatic S7 – 1500
Operator panel
Touch screen Beetronics, 15TS7, 15''
Temperature
Built-in thermostat. Control range: from 5°С via coolant to 60°С. Accuracy:(measurement) +/- 0.1°C, (control) +/- 0.2°C
pH
Hamilton sensors (different options, including ARC). Acid/ Base Base/СО2 2 – 12 +/- 0,01pH units
pO₂
Hamilton sensors (different options, including Arc).
Foam
Option
Overpressure (option)
The control range 0-1 bar, measuring accuracy +/- 0.02 bar, control accuracy +/- 0.04 bar
Feeding
0.02 – 40 ml/min according to adjusted profile
Peristaltic Pumps
4 built-in peristaltic pumps. External pump (option)
Communication and data exchange
Ethernet connection to LAN or WAN for remote maintenance or OPC; WiFi connection (VNC server) for smart phones and tablets
Dimensions (mm)
930 (W) х 800(H) х 600(D)
Autoclaving space required (mm)
590 (H) x 270 (D)
Optional sensors
Culture turbidity (optical density), culture permittivity (viable cell density), conductivity, methanol/ethanol, off-gas analysis (Oxygen, Carbon dioxide, CH₄), etc.
Fed-batch control (option)
Model based fed-batch control, using supplement PC program (based on Matlab or Python), and connected with SCADA trough OPC server.