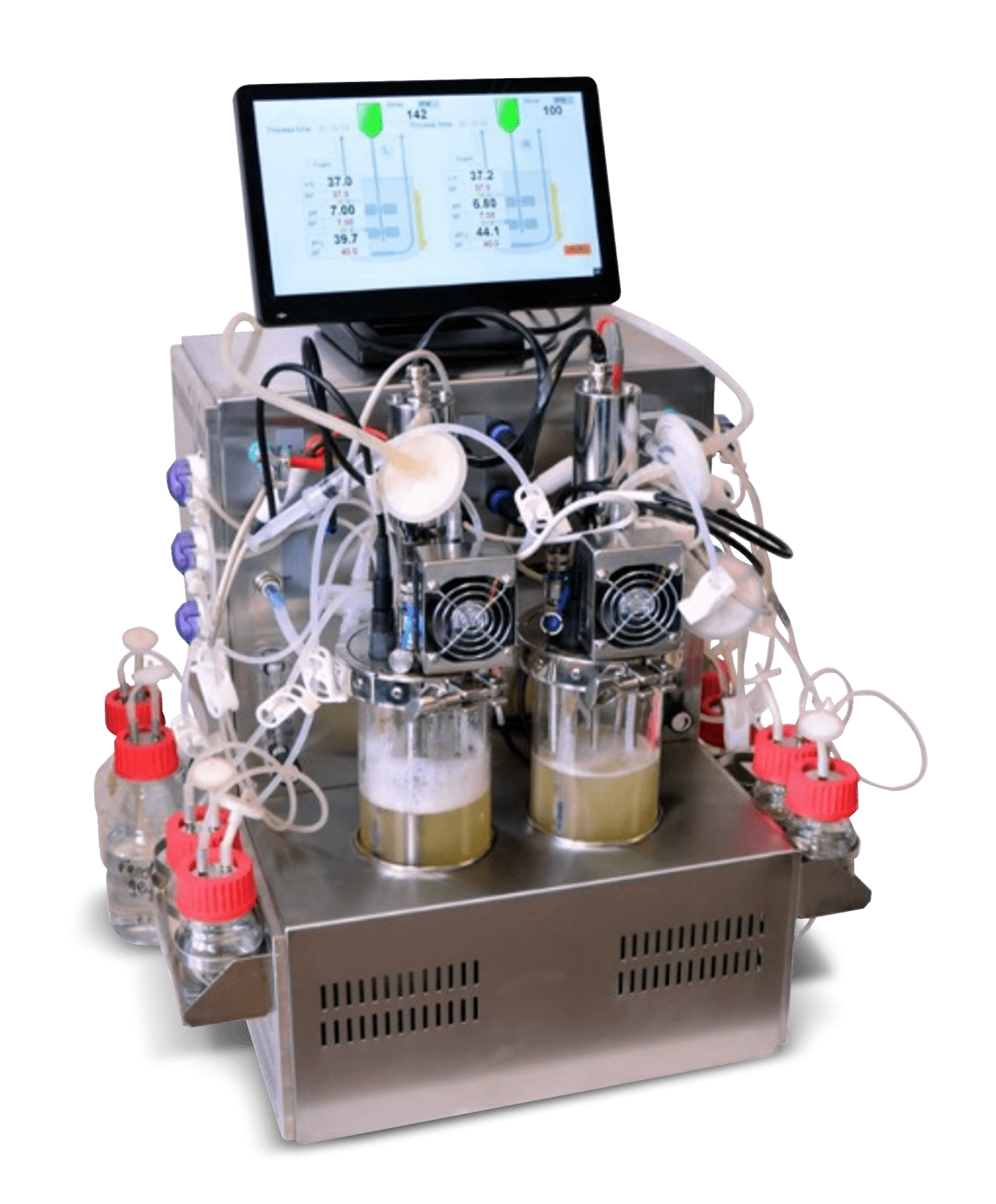 1 L Twin Microbial Bioreactor
Novel magnetically coupled drive: eliminates the risk of contamination within the Bioreactor since as there is no mechanical seal.
Powerful Peltier temperature control: The Peltier element provides accurate temperature control from 10-50°C.
Mixing and aeration: tailored for microbial fermentation (fungi, yeast or bacteria).
Uniform lid construction: No welded components within the lid for easy maintenance and sterility.
Flexible working volume: 1 L bioreactor with working volume of 0.4 – 0.7 L.
Our innovative twin stirred tank bioreactor is designed for R&D and process development. It has a robust design, yet it is compact and ergonomic.
A Peltier element efficiently controls the temperature of the bioreactor vessel without the need for a water source. Tough construction and fan-driven heat exchange develop sufficient power to cool and condense even high-temperature processes.
The uniform non-welded lid features all the necessary ports and sensors that might be required for bioprocesses.
The magnetically coupled drive ensures excellent sterility within the vessel since it eliminates the need for a mechanical seal. It can provide a mixing rate from 40 rpm to 1000 rpm.
The bioprocess control unit ensures:
1) Temperature moderation. Temperature is controlled by a thermoelectric heating and cooling element (Peltier element) and is measured with the Pt100 sensor. Thermoregulation of the vessels is performed by placing the base of the vessels in copper heat transfer jars;
2) pH control. Enabled by supplying base or acid solutions to the bioreactors medium using the control unit's peristaltic pumps;
3) pO2 control. Ensured by automatic adjustments of the stirrer's rotational speed. The actual pO2 value is monitored using a pO2 electrode;
4) Foam control. Performed by supplying an antifoam agent to the bioreactor's medium using the control unit's peristaltic pumps. The foam level is monitored using a conductivity sensor;
5) Feeding (of a substrate). Carried out using the control unit's peristaltic pump and the respective feeding rate/volume is controlled by the feeding profile, which is set in the control unit;
6) Mixing. Ensured by a magnetic drive, the agitator is driven by a motor which is mounted on the top lid of the bioreactor.
Bioreactor 1.1 (microbiology)
Vessel
Total Volume (L)
0.9
Working Volume (L)
0.4 – 0.7
Inside Diameter/Inside Height (mm)
85 / 165
Ports
Mixer drive; pH, DO, T, foam sensors; 2 medium inlet/outlet; exhaust gas, sparger
Aeration
Control
Rotameter, TMFC (optional)
Gas Supply
Air, O₂ (optional)
Flow Range, L/min
0.1-2.0
Sparger
Micro sparger
Filters
D37 mm 0.2 μm PTFE
Exhaust gas condenser
Peltier cooling
Mixing
Drive
Top, magnetic coupling
Rotation Speed Range (rpm)
40-1000
Mixer (Impellers)
2 Rushton turbines
Control
Controller
Siemens Simatic S7-1200
Operator panel
Touch screen 12"
Temperature
Peltier heating/cooling 10-50°C. Measurement accuracy ± 0.1°C and control accuracy ± 0.2°C
pH
Hamilton or Mettler Toledo sensor. Acid/Alkali 2-12 +/- 0.01 pH units
pO₂
Hamilton or Mettler Toledo sensor. Stir control + О₂ (optional). 0-150% +/- 1%
Foam
Conductivity sensor
Feeding
0.01-20 mL/min according to the set profile
Peristaltic Pumps
3 built-in variable speed pumps. Additional pumps (optional)
Dimensions
Overall dimensions of the bioreactor (mm) 540(W) х 350(H) х 410(D)