What Makes Our Bioreactors One of A Kind

Are you looking for a custom bioreactor solution for your laboratory? Look no further than our range of benchtop bioreactors! Our bioreactors may be custom designed to create the ideal growth conditions for your application.
Our bioreactors are truly remarkable and unlike any other on the market. Experience the power of our bioreactors for yourself and see why they are one of a kind!
Novel Magnetic Mixer
In modern biological reactors one of the most common causes of non-sterility is the mixers drive seal which can be exposed to grinding during long fermentation runs. The most efficient solution for this problem is to use our patented magnetically couple drive which eliminates the risk of contamination within the bioreactor as there is no need for a mechanical seal.
Our novel magnetically coupled mixer uses a non-traditional rotation axle. The patented magnetic drive is superior to other analogues as it provides clean and stable rotation, event at high agitation rates and power inputs.
The design of the mixers enables numerous customisation options for the rotor layout. This means impeller placements, amount and type can be adjusted to best suit the application. The impellers may be welded or detachable as required. Our novel magnetic mixer results in less moving parts, no heat build-up, and the vessel remains hermetically sealed even if the mixer fails.  Furthermore, our mixers are compatible with clean in place procedures.
At Froilabo we can adapt mixer design to suit applications.
Different rotor blade options include:
Rushton: the most traditional rotor type, which is ideal for bacterial and yeast cultivation/fermentation processes that, require powerful radial mixing
Pitched blades: enable low shear mixing. Good for plant & mammalian cell cultivation, which requires gentle yet stable mixing
Novel blades: novel design produced from highly viscous broths
Heating and Cooling Systems
A Peltier element heats and cools our 1 L Twin bioreactor and provides accurate temperature control from 10-50°C. It efficiently controls the temperature of the bioreactor vessel without the need for a water source. Tough construction and fan-driven heat exchange develop sufficient power to cool and condense even high-temperature processes.
Our 5 L and 15 L bioreactors are equipped with a water-cooled system. The jacketed base controls the temperature of the vessel by circulating water at the required temperature. Featuring a built-in thermostat the temperature may be controlled from 5°C (via coolant) to 60°C.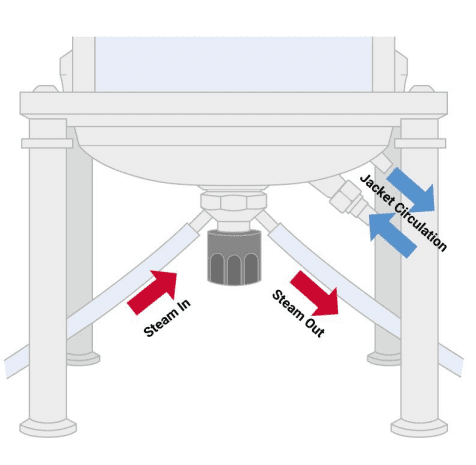 SCADA for Laboratory Bioreactors
Optional SCADA software is available to control laboratory fermentation process and store the process data. Additional sensors, balances and devices can be easily integrated in SCADA, and can operate on a single PC, network or remote via Internet. SCADA can control one or several bioreactors. With SCADA there is the possibility to communicate with MATLAB based program via OPC server. MATLAB program ensures fed-batch automatic control by on-line comparison of mathematical model with process off-line data. SCADA is developed according to the requirements of 21 CFR Part 11. The process can be evaluated, reviewed, approved, and archived without a single sheet of paper and without the possibility to manipulate process data and signatures. Software development is based on ARC Informatique PC Vue industrial development package.
Action Journal
Our control software features an action journal which allows users to make notes on any operational actions that were performed during the process. Perfect for laboratories where multiple people might be using the one bioreactor.
Non-Welded Lid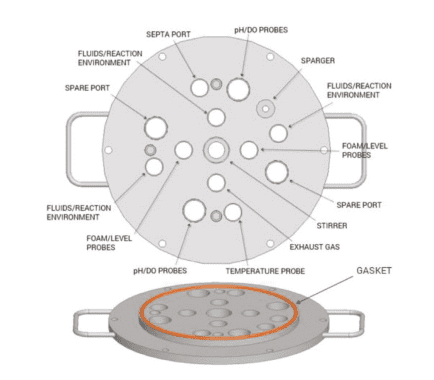 There are no welded components within the lid for easy maintenance and sterility. The uniform non-welded lid also features all the necessary ports for the probes and sensors that might be required for bioprocesses.
Sterilisable & Autoclavable System
The vessels, lid and collapsible condenser are autoclavable. In addition, there is a convenient and sterilisable sampling port located in the base of the vessel to facilitate operational activities during a process.
Lab Scale Bioreactor Range From Froilabo
Explore our range of fully automated laboratory scale bioreactors and get in touch if you require more information or wish to discuss your customisation needs.
Stay In Touch
To keep up to date with our latest news, join us on social media – Linked, Facebook – and sign-up to our infrequent newsletter using the form below.