Laboratory Scale Bioreactors and Fermenters
The Froilabo stirred-tank lab-scale bioreactor range covers a wide range of bioreactor applications including academia, research, process development & optimisation, scale up and production. Our benchtop bioreactors are suitable for microbial fermentation (fungi, yeast, or bacteria) and cell cultivation (mammalian or plant cells) processes. Featuring a novel magnetic mixer and non-welded lid, our vessels are ideal for bioprocesses which require high-grade aseptic conditions. The autoclavable single walled borosilicate glass vessels are available in three different volumes to make process scaling simple.
Magnetically coupled mixer
In modern laboratory bioreactors one of the most common causes of non-sterility is the mechanical mixers drive seal which can be exposed to grinding during long fermentation runs. The most efficient solution for this problem is to use magnetically coupled stirrer drives.
The Froilabo stirred-tank bioreactors feature a novel magnetically coupled drive which uses a non-traditional rotation axle. The patented magnetic drive is suitable for applications requiring high grade aseptic conditions. The magnetic drive is superior to other analogues as it provides clean and stable rotation, even at high agitation rates and power inputs.

The drive consists of an inner axle which rotates during agitation. The axle is mounted in a hermetic cylindrical housing which remains stationary and separates the reaction medium from the external environment. The drive magnets are fixed to the inner axle and thanks to the magnetic field interact with the driven magnets which are placed inside the impeller. By applying rotation to the drive magnets, the impeller moves simultaneously thus providing clean and low friction agitation.
The design of the mixers enables numerous customisation options for the rotor layout. This means impeller placements, amount and type can be adjusted to best suit the application. The rotor blades may be welded or detachable as required.
Impellers
Rushton blades are the most common radial impeller for applications that require a high gas to liquid mass transfer rate, such as microorganism cultivation, which requires powerful radial liquid flow.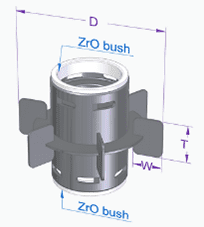 Pitched (marine) blades enable low shear mixing, whilst continuing a stable and effective axial liquid flow. Pitched blades are commonly employed in the cultivation of plant and mammalian cells since gentle yet stable mixing is imperative.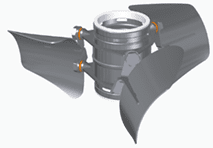 A novel blade solution has been developed for highly viscous non-Newtonian fermentation broths. The design enables effective mass transfer thanks to the combined axial/radial liquid flow.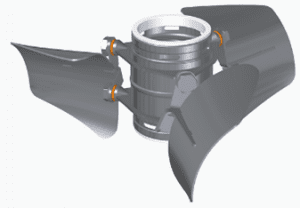 Sterilisation
A Lab-scale bioreactor and fermenters requires adequate sterilisation between uses. The Froilabo bioreactors feature a condenser which can be folded to make the reactor assembly more compact so that it may be conveniently placed within an autoclave.
Explore Froilabo's fully automated laboratory scale bioreactor range today.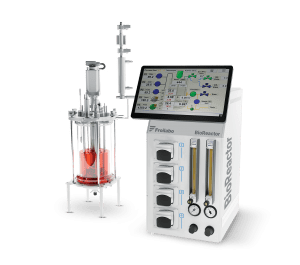 Keep in Touch
Don't forget to sign up to our newsletter and follow us on social media to keep up to date with the latest Froilabo applications and products news.